BABYWEARING

Have you ever wondered why:

your newborn baby will settle on your chest but not in a cot?

your baby loves to be rocked and soothed to sleep?
It's because your baby's brain is programmed to demand to be close to its source of food, physical and emotional safety. YOU!

Your baby has been in close contact with you for 40 weeks or more and has had every need met cocooned in the safety of a human body (yours). Just because a baby is born doesn't mean it is ready to be independent, in fact, humans are very immature in comparison to other mammals when they are born. Your body has been your baby's safe haven and it will continue to be needed in a similar way for sometime to come.

Women have found many practical ways to carry their babies so they can accomplish tasks and meet the needs of their children. They have tied their babies to their fronts, backs and sides so they can continue with their everyday life.

BENEFITS

Baby is in close physical contact with you

Oxytocin receptors are stimulated by the close contact with a human body

Provides opportunities to get to know your baby with their unique personality and foibles

Early response to baby's cues and feeding behaviours

Baby cries less so more calm and content

Baby is soothed by the movement

Baby will be an integrated part of your life

Baby sleeps more peacefully

There is the potential to gain weight better as the baby is not stressed by being separated

Provides experiences to help develop baby's vestibular system (balance and spatial orientation)

Baby sleeps snuggled to your body so the risk of plagiocephaly (flat head) is reduced. Babywearing is 'tummy time'!

Decreases the amount of time spent in 'static' environments e.g. cots, prams and car seats

Keeps baby in a more upright position which may aid better digestion and/or prevent gastric reflux

Your baby will be a close part of your life and family activities

Interaction with your baby by others will be easier as they will be at the same level

When out shopping you can visit the toilet without having to worry about what to do with your baby and pram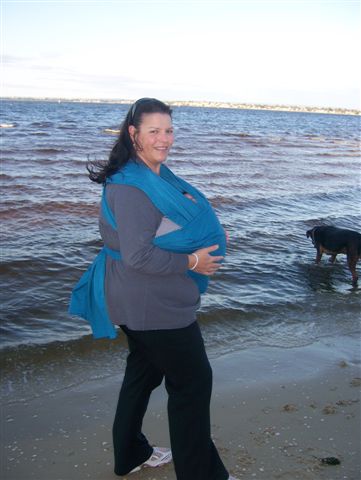 "Today I decided to walk the dog to the river - just under a 2 km walk - so into the sling with Ashton, on with the backpack & off we went. It frees my hands to handle the dog & we are able to get up more of a pace than dealing with a pram & dog - my "dog lead vs pram accident in the early days was enough of an experience. Ash slept the whole way and continued to during our walks up & down the beach." Yvette

"Ashton, my friend Deb and I decided to brave the recent Pregnancy & Baby expo at Claremont showgrounds. The thought of battling multitudes of other parents with prams daunted us all so it was on with the "Shaughn sling". I put it on, slipped bub in & got it adjusted at home. Then I slipped bub out for the trip in the car (keeping it on me for the
drive) & once we arrived it was less fuss to slip him back in & go off adventuring for over 4 hours.I received many compliments on how comfortable he looked and could only comment back that we both were! Deb glowed as she took the credit for picking the colour & sewing it for me. I had recently purchased a commercial sling from the markets & have found it somewhat difficult to manage without Ash getting upset & becoming difficult to resettle but I do keep trying as it's a good alternative. I hope all the women I saw purchasing similar products at the expo have a positive experience & are able to use theirs successfully as I hope to. " Yvette
Many styles of baby carriers on the market can appear daunting to the new baby wearer so contacting a distributor who is knowledgeable about those that give adequate support to the baby's developing body. There are groups of women who babywear in Perth and you may like to contact them for advice and suggestions - have a look on facebook for a group near to you.
Are slings/wraps expensive?
Yes some commercial slings and wraps can appear expensive but they often have to cover costs of packaging, dvd instructions and distribution. However if you want to make one yourself this can be as simple as purchasing a long length of fabric (approximately 5-6 metres). Some fabrics are wide enough to make two wraps as the finished width can be approximately 50-55cm.
Carrying your baby can continue for as long as you wish and allows you to participate in many activities using a pram will not allow - see photos below: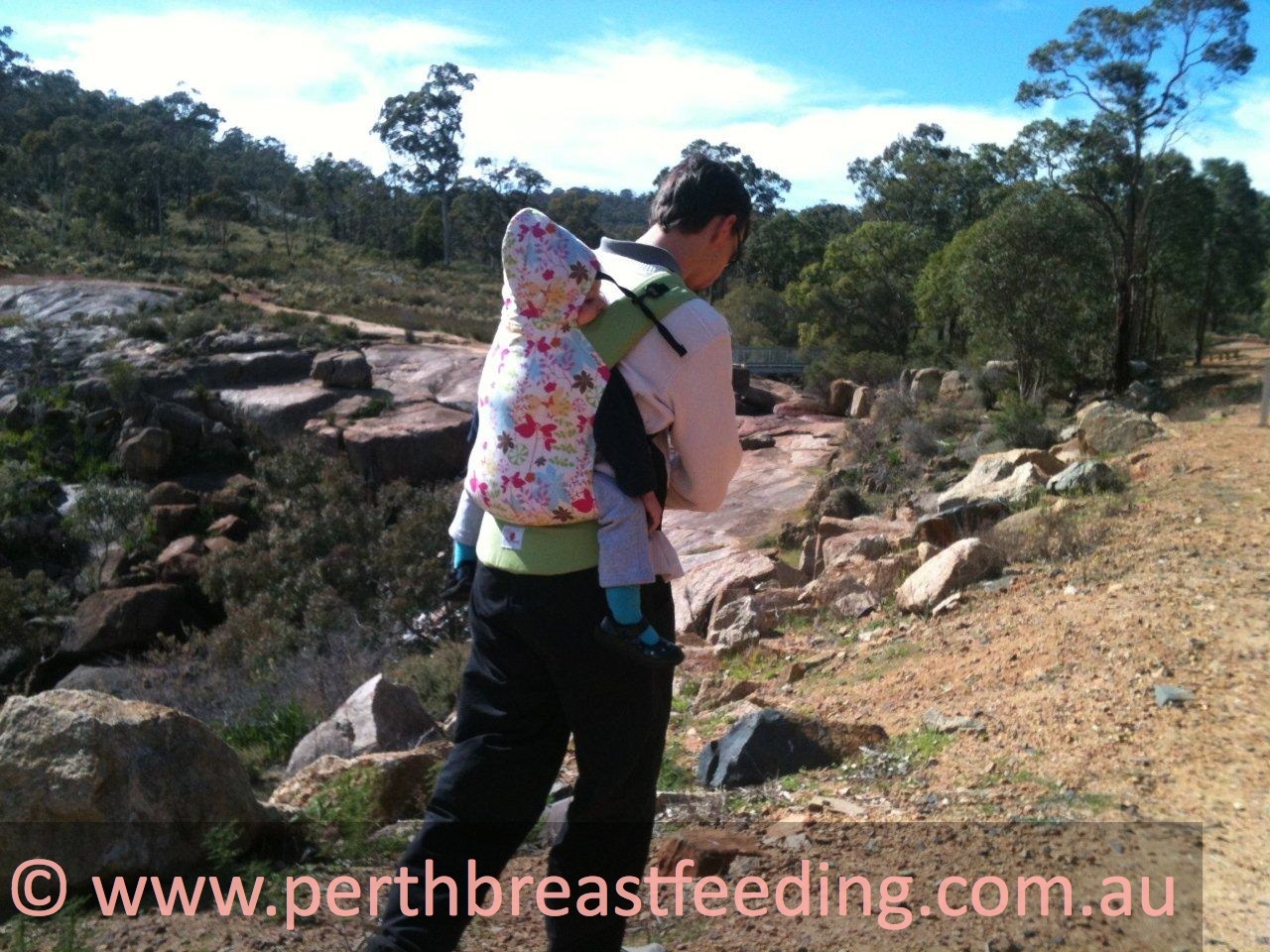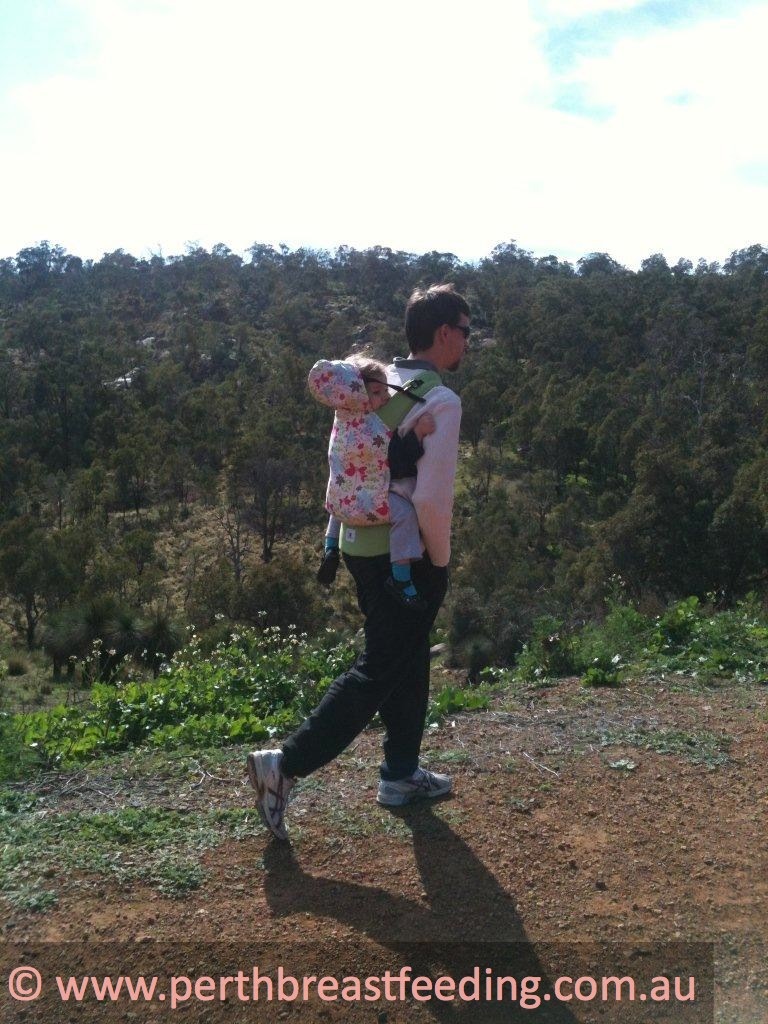 TO BE CONTINUED....